The Hot Wedding Hot Couple
Congratulations Leah Clark & Andrew Vallance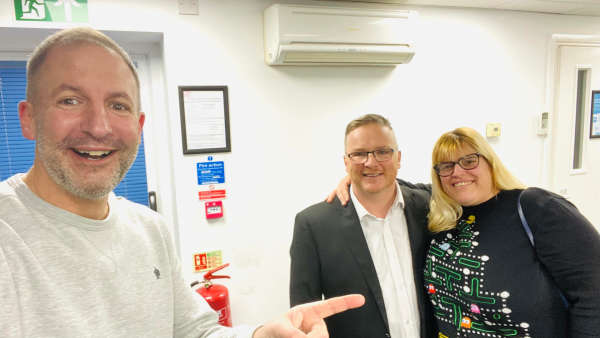 HOT has given one lucky couple a life changing prize worth well over £25,000! They will be getting married live on the radio on 12th March 2022.
The Judges shortlisted their TOP 10 couples out of the hundreds of entries.
YOU then voted in your thousands for your favourite couple based on their reasons alone. Your top 3 then canvased for your final vote. You voted again in your thousands and our winner was revealed live Xmas Eve.
Our Top 3 Couples & results
Couple 1 - Kay Butler & Sara Goldsmith - 36.8%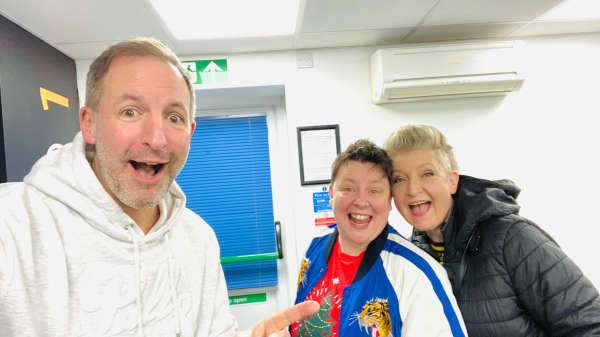 I believe my partner deserves this, she does not know I am entering us for this. She is the kindest person on earth and has had a lot of heartache she has lost both her parents and put her life on hold and nursed her mother through cancer. She is one of life's givers, she feeds the homeless and puts everyone before herself. We plan to marry and have been engaged since 2017 but with putting our life and soul and every penny into our business we have just not had the funds, she even lost her engagement ring and we've not been able to afford to replace it. So this would truly mean the world to us both to be considered for this awesome prize.
Here's their chat with Mark to get to know them.
Couple 2 - Leah Clark & Andrew Vallance - 38.3%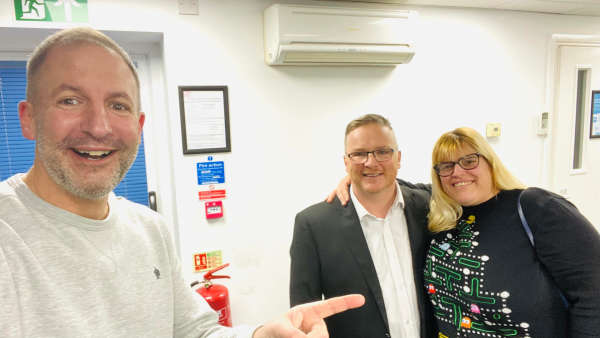 We deserve this are we are 2 of the same we are soulmates destined to be together. We may not be each other's firsts but will a million percent be each other's lasts. This blended family is perfect. We got engaged a week ago today on my 44th birthday and I can't wait to become his wife. I haven't been engaged before but he has come along and swept me clean off my feet and we want to marry as soon as possible. Financially this could be a long way off for ourselves. When we announced our engagement I was overwhelmed with the amount of lovely well wishes we have received. Our children, our family and friends are right behind us and can see we have something special and worth the long wait. We wish we had met each other much soon but we were different people then.
Here's their chat with Mark to get to know them.
Couple 3 - Sophie Jefferies & Dominic Yates - 24.9%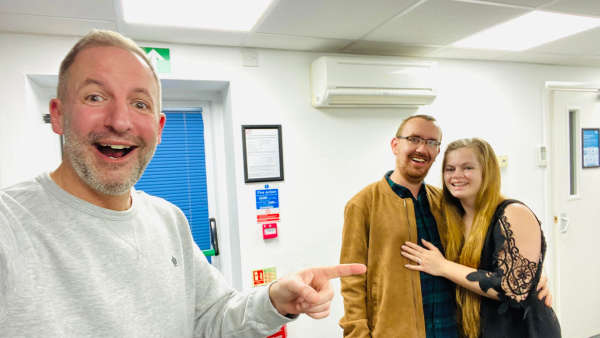 We have been together for just over a year, having met on Tinder in 2019. We have faced a lot of challenges as a couple, namely financial difficulties, but are finally coming out the other side. We both grew up around Bournemouth & Poole, and he has three children who live nearby. Both of us are quirky individuals who compliment each other perfectly. I fell in love with his loving & caring nature & he fell for my crazy personality. In the next few years we hope to start a family of our own, but wish to follow tradition & get married first. This started with him proposing to me at the site of our first date on our first anniversary. Winning the Hot Wedding would allow us to celebrate our marriage with our loved ones without any worries. It would be an amazing start to our future as husband & wife.
Here's their chat with Mark to get to know them.
The Wedding - 12th March 2022
The wedding will be broadcast on Hot Radio & Hot Gold on March 12th next year Live from The Marsham Court Hotel who are kindly supplying the venue, honeymoon suite, Venue & Catering for lunch for up to 70 guests and the Venue for the evening event!!
Thanks to our friends from the wedding industry.......
🧡 Venue, Reception & extras - Marsham Court Hotel
🧡 Wedding & Bridesmaids dresses - Mojgan Bridal Couture
🧡 Rings - Christchurch Jewellers
🧡 Suits - Fox Tailoring
🧡 Evening Catering - Red Cherry
🧡 Wedding Cake & Cupcakes - Goode Choice Catering
🧡 Wine & Refreshments - Ippolito 1845 wine
🧡 Honeymoon inc Couples Flights & 1 Weeks Accommodation in Gran Canarias - Expectations Travel
🧡 Wedding Cars - Tech Auto's Poole
🧡 Honeymoon Insurance - Coversure Poole
🧡 Registrar Feeds - Hot Radio & Hot Gold
🧡 Photobooth - Picture That Booth
🧡 Flowers - Poppies Florist Bournemouth
🧡 Wedding Printing - BCP - Bournemouth Creative Print
🧡 Design Artwork - Magic Box Media
🧡 Photos & Videos - Oak Photography
🧡 Personal Training for the couple to get in shape - Sweat With Attitude
🧡 Spa & Pamper day - Arcadia Beauty Spa
🧡 Hair & Makeup - Barnet & Boatrace
🧡 Wedding Shoes up to the value of £500 - Mploy Staffing Solutions
🧡 Master of Ceremonies - Jay Rachet
🧡 Wedding DJ - Luvwed
🧡 Wedding Band - Middleman Entertainment Solutions
🧡 LED Percussion - Havana Percussion