Wedding

The Hot Wedding is here
Congratulations Leah Clark & Andrew Vallance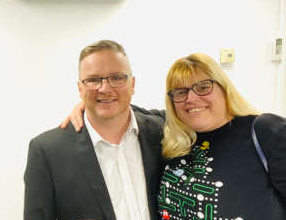 HOT has given one lucky couple a life changing prize worth well over £25,000!
Leah Clark & Andrew Vallance will be getting married live on Hot Radio on 12th March 2022.
The Hot Wedding - 12th March 2022 12pm
The wedding will be broadcast on Hot Radio on Saturday March 12th at 12pm live from The Marsham Court Hotel who are kindly supplying the venue, honeymoon suite, Venue & Catering for lunch for up to 70 guests and the Venue for the evening event!!
So join us for our special show 12-2pm, as we bring you all the excitement of the hot wedding as it happens.
Thanks to our friends from the wedding industry.......
🧡 Venue, Reception & extras - Marsham Court Hotel
🧡 Wedding dress - Mojgan Bridal Couture
🧡 Rings - Christchurch Jewellers
🧡 Suits - Fox Tailoring
🧡 Evening Catering - Red Cherry & Marsham Court Hotel
🧡 Wedding Cake & Cupcakes - Goode Choice Catering
🧡 Wine & Refreshments - Winederful.UK
🧡 Honeymoon inc Couples Flights & 1 Weeks Accommodation in Gran Canarias - Expectations Travel
🧡 Wedding Cars - Tech Auto's Poole
🧡 Honeymoon Insurance - Coversure Poole
🧡 Registrar Feeds - Hot Radio & Hot Gold
🧡 Photobooth - Picture That Booth
🧡 Flowers - Poppies Florist Bournemouth
🧡 Wedding Printing - BCP - Bournemouth Creative Print
🧡 Design Artwork - Magic Box Media
🧡 Photos & Videos - Oak Photography
🧡 Personal Training for the couple to get in shape - Sweat With Attitude
🧡 Spa & Pamper day - Arcadia Beauty Spa
🧡 Hair & Makeup - Barnet & Boatrace
🧡 Wedding Shoes up to the value of £500 - Mploy Staffing Solutions
🧡 Master of Ceremonies - Jay Rachet
🧡 Wedding DJ - Hot Radio
🧡 Wedding Band - Middleman Entertainment Solutions
🧡 LED Percussion - Havana Percussion
🧡 Wedding Broadcast Enquipment Hire - Simon James - SJ Hire