Hots Food Bank Rescue 2023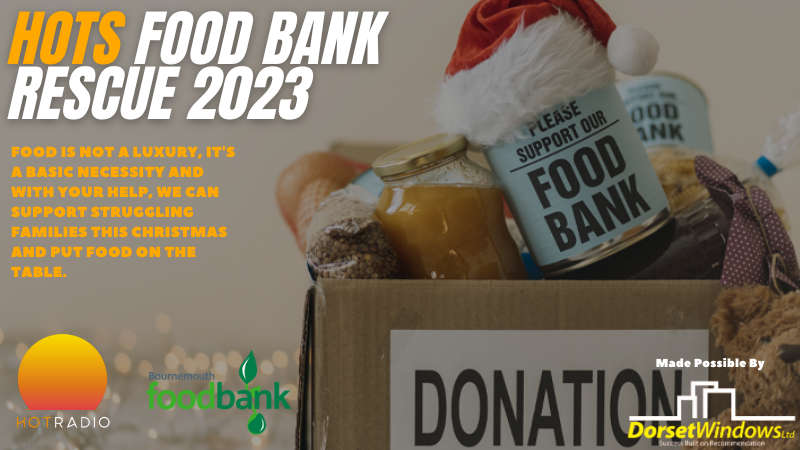 The Hot Radio family has teamed up with Bournemouth Food Bank to help the local community with its joint Christmas Food Bank Appeal.
Food is not a luxury, it's a basic necessity and with your help, we can support struggling families this Christmas and put food on the table.
If you're in a position to get some extra bits when you're shopping, then drop it off at Hot Radio or check out all the drop-off sites listed below.
Put some cheer back into YOUR local community after all it's Christmas and a little kindness goes a long way.
This appeal was made possible by our friends at Dorset Windows, passionate about supporting all in the local community. www.dorsetwindows.co.uk
Drop Off locations:
Hot Radio - 376 Ringwood Road, Poole, BH12 3LT
Tesco Bournemouth Extra - Riverside Avenue, Bournemouth, BH7 7DY
Sainsbury's Castlepoint - Castle Lane West, Bournemouth BH8 9UW
ASDA Bournemouth & Castlepoint - St. Paul's Road, BH8 8DL / Castle Lane West BH8 9UP
Waitrose Winton - 345 Wimborne Road, Bournemouth BH9 2AD
St George's Foodbank Centre - St Georges Methodist, 118 Haviland Road, Boscombe
Church Lifehouse (BCC) - Life Centre, 711-715 Wimborne Road, Moordown
Citygate Community Hub - 138a Holdenhurst Rd, Bournemouth, BH8 8AS