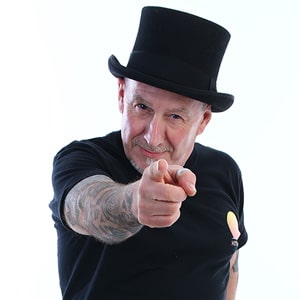 Get to know 'The Hat'
Martyn The Hat presents The Lunchbox, Eclectic Beach & Sweet Sensation Sessions on Hot Radio, but what makes him tick?
Quick Fire Questions!!
Tea or Coffee? coffee
Sweet or Savory? sweet
Spicy or plain food? plain
Casual or Smart? both
Trainers or shoes? both
Dogs or Cats? cats
Summer or Winter? summer
Spring or Autumn? spring
Town or Countryside? both
Morning or Evening? evening
Shower or Bath? shower
Posh nosh or pub grub? both
Night on the town or quiet night in? both
Early bird or night owl? night owl
Bar or Club? both

Get to know more about what makes The Hat tick
What was your first 'proper' job? Hairdresser
What was the first record you ever bought? Stevie wonder I wish
What was the first gig you went to? The jam
Top 5 choons of all time? Difficult so many I can't choose just 5!
What is your favourite local place (non business)? Ikea
What is your favourite food? Marmite & peanut butter
What is your favourite film/TV show of all time? Human traffic
If you could work with anyone (dead or live) who would it be and where? David Bowie in Florida
Most famous person you have met or worked with? Calvin Harris, Harry Redknapp & Sting
You are hosting a dinner party.... which 5 famous guests - dead or alive would you invite?
Prince
Jamiroquai
Sarah Louise from Middleman Solutions
David Bowie
Faithless
Do you have any weird and wonderful routines that you have to stick to when DJing? Or any lucky mascots you have to take with you? Hats
When and where was your first gig? Magnums nightclub
You have the day off..... from everything... a day totally for yourself.... How would you spend it? Listening to music on and being with the love of my life
You are stranded on a desert Island.... you find a genie in a lamp... you can wish for 5 items - what would they be?
My Mrs
Food
Music
Hats
Cats
You can only eat one meal, and drink one drink forever! What would you choose? Marmite & chocolate milk
You are given 1 million pounds.... How would you spend it? Spend it well & look after my loved ones.
What was the best piece of advice given to you and by who? Treat people how you expect to be treated by my mum
If you had one super power, what would it be and how would you positively use it? Invisibility to get rich and destroy my enemies
What was your first car? Beetle
What do you get up to when not doing your show on Hot? Prepare music for my next show or exercise.