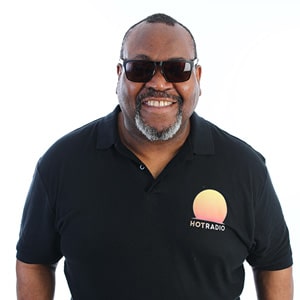 Get to know Paul
Paul presents Sunday Soul Society on Hot Radio, but what makes him tick?
Quick Fire Questions!!

Tea or Coffee? Neither
Sweet or Savory? Both
Spicy or plain food? Spicy
Casual or Smart? Both
Trainers or shoes? Depends
Dogs or Cats? Both
Summer or Winter? summer
Spring or Autumn? Spring
Town or Countryside? Countryside
Morning or Evening? Evening
Shower or Bath? Shower
Posh nosh or pub grub? Both
Night on the town or quiet night in? Night in
Early bird or night owl? Night owl
Bar or Club? Both

Get to know more about what makes Paul tick
What was your first 'proper' job? Mechanic
What was the first record you ever bought? The greatest love of all George Benson
What was the first gig you went to? Curtis Mayfield
Top 5 choons of all time? To difficult!
What is your favorite food? Food!
What is your favorite film/TV show of all time? Film Dune. Tv show Star trek 1963 to present
If you could work with anyone (dead or live) who would it be and where? Martin Luthor king jr. He helped change attitudes to how change can be done.
Most famous person you have met or worked with? List is too long!
You are hosting a dinner party.... which 5 famous guests - dead or alive would you invite?
Martin Luthor King jr.
Robert kennady jr.
President Lincon.
Gengis khan.
Bob Povey
When and where was your first gig? Cinderella Rockerfellas Bolton 1978.
You have the day off..... from everything... a day totally for yourself.... How would you spend it? Cooking listening to music.
ou are stranded on a desert Island.... you find a genie in a lamp... you can wish for 5 items - what would they be?
A fully operational kitchen.
Electric Power
my music with something to play it on.

You can only eat one meal, and drink one drink forever! What would you choose? Water, sea food cabernara.
What was the best piece of advice given to you and by who? Be true to yourself. by my dad What was your first car? Ford granada consul.
What do you get up to when not doing your show on Hot? Work work work!