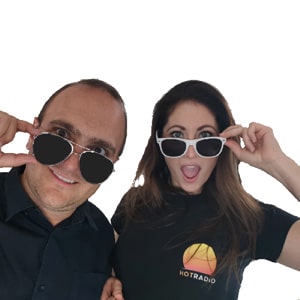 Quick Fire Questions!!
Tea or Coffee? Coffee
Sweet or Savory? Sweet
Spicy or plain food? Spicy
Casual or Smart? Casual
Trainers or shoes? Shoes
Dogs or Cats? Dogs
Summer or Winter? Summer
Spring or Autumn? Spring
Town or Countryside? Countryside
Morning or Evening? Morning
Shower or Bath? Bath
Posh nosh or pub grub? Both
Night on the town or quiet night in? Quiet night in
Early bird or night owl? Early bird
Bar or Club? Bar (or pub)

Get to know more about what makes Dave tick
What was your first 'proper' job?
I worked for a National Event Company while I was still at school. At weekends I used to tour the country with radio stations and pop stars, do my coursework for my A Levels on the way home in the roadshow truck and was back in school Monday morning. I didn't get paid much but I got backstage passes to some pretty amazing gigs - Smash Hits Poll Winners Party, Brit Awards and Party In The Park to name a few!
What was the first record you ever bought?
My parents bought me Paul McCartney and the Frog Chorus 'We All Stand Together' on a 45 (it's a small record kids!), but the first CD single I remember buying myself was Oasis 'Whatever' (a bit more credible).
What was the first gig you went to?
This is embarrassing... The Cliff Richard 30th Anniversary Tour 1988 at the BIC. To rectify this faux pas, my BEST gig was Weezer at the Air Canada Centre in Toronto.
Top 5 choons of all time?
Titanium - David Guetta and Sia
Pretty Green Eyes - Ultrabeat
Westside - TQ
You Make Me Wanna - Usher
South Of The Border - Ed Sheehan and Camila Cabello
What is your favorite local place (non business)?
On the water in Poole Harbour
What is your favorite food?
You can't beat a good roast dinner
What is your favourite film/TV show of all time?
Back To The Future (all of them!) and my go to binge watch is Big Bang Theory
If you could work with anyone (dead or live) who would it be and where?
Walt Disney in his prime. Such a creative person with the focus and drive to push the boundaries of entertainment. I'd love to see him in action. It would be in his office above Disneyland in California so that I could people-watch from the window and eat at his exclusive 'Club 33' restaurant. I'm a big kid at heart!
Most famous person you have met or worked with?
There have been a few... drinking with Alesha Dixon on a cruise in Mexico. I lost my wallet in London after a big night out and borrowed 20p from Edele and Keavy, the twins from pop group B*Witched (they thought I was trying to chat them up but I only wanted some money for the pay phone - that dates the story!) and I've worked with Dianna Ross at the Capital Legends Awards (I think Elysa beats me on the celebrities)
You are hosting a dinner party.... which 5 famous guests - dead or alive would you invite?
Well... Britney Spears and Ariana Grande (do I stand a chance with either of them?), comedian Lee Evans to stimulate the conversation (and he's not a handsome chap so that helps my cause), King Henry VIII for woman advice and Mary Berry to provide the delicious treats.
When and where was your first DJ gig?
My first residency was when I was 16 years old... Saturday nights at SPLASHMANIA Splashdown at Tower Park and my first bar gig was 'Airwaves' at The Brasshouse in Bournemouth (thanks to Martyn The Hat)
You have the day off..... from everything... a day totally for yourself.... How would you spend it?
I love going out, walking, boating, beach, but if I had a day to myself it would be a novelty to have a lie-in. I'd eat junk food in bed and watch Netflix all day
You are stranded on a desert Island.... you find a genie in a lamp... you can wish for 5 items - what would they be?
I'd wish for a luxury house on the island... with a magic fridge that produces all the food and drink I could want... a comfy bed... my family... and a huge TV with every programme in the world (I have clearly thought about this question too much - now how do I get these things?!)
If you had one super power, what would it be and how would you positively use it?
I would have 'remote control power' where I could pause, rewind or fast forward time. I'd use it to change the outcome of things - watching a Bournemouth football match when the opposition are about to score, I'd pause time and change the trajectory of the ball to miss (is that cheating?), I'd rewind time to change nasty things that have happened in the past and on days when time is really dragging or Elysa is talking about podcasts I'd hit fast forward.
What do you get up to when not doing your show on Hot?
During the week my day job is overseeing the Entertainment on cruise ships, so you'll often find me in Southampton or cruising the world (when there are no virus dramas of course). I love to spend time with my family and when we get the chance we all cruise together. If we aren't travelling at sea our favourite place to unwind is Disney World - yes, I AM a big kid... now pass me my Mickey Mouse ears!