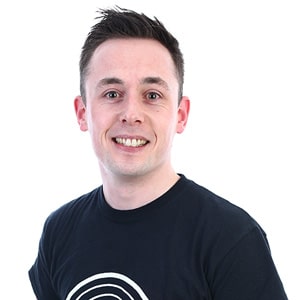 Get to know Chris
Chris presents Saturday Mornings on Hot Radio, but what makes him tick?
Quick Fire Questions!!
Tea or Coffee? Tea
Sweet or Savory? Savory
Spicy or plain food? Spicy
Casual or Smart? Casual
Trainers or shoes? Trainers
Dogs or Cats? Dogs
Summer or Winter? Summer
Spring or Autumn? Spring
Town or Countryside? Countryside
Morning or Evening? Evening
Shower or Bath? Bath
Posh nosh or pub grub? Pub Grub
Night on the town or quiet night in? Quiet night in
Early bird or night owl? Night owl
Bar or Club? Bar
Get to know more about what makes Chris tick
What was your first 'proper' job?
This is easy, its where I learnt my trade to present and DJ, I was a former Butlins Redcoat at Minehead many moons ago (does this count as a proper job?) I had so much fun there, where do you get the chance ever to DJ in front of 2,500 people every night? I got paid to talk and press buttons, not much has changed there to be honest.

What was the first record you ever bought?
Don't judge me on this but it was "S Club 7, S Club Party" I only brought it as it came with the music video which I could watch on my windows 95 computer.
What was the first gig you went to? Take That Beautiful World Tour
Top 5 choons of all time?
Children by Robert Miles
Darude by Sandstorm
Mr Brightside by The Killers
Don't Look Back In Anger by Oasis
Don't Stop Me Now by Queen
What is your favourite local place (non business)? Moors Valley Country Park
What is your favourite food? Chine​se
What is your favourite film/TV show of all time? Breaking Bad
If you could work with anyone (dead or live) who would it be and where?
Probably Ant & Dec. If I had to choose somewhere it would have to be on the set of "I'm a Celebrity" I'll be more than happy and sit in the jungle for a couple of weeks in Australia, the furthest I've ever travelled is to Skegness and back

Most famous person you have met or worked with?
There are a few to choose from *CLANG however the most enjoyable was interviewing 1966 World Cup Winner Sir Geoff Hurst. I was so nervous, but he put me at ease very quickly and we had a great chat talking about that special day when England became World Cup Champions.

You are hosting a dinner party.... which 5 famous guests - dead or alive would you invite?
Dermot O Leary
David Attenborough
Prince William
Chuckle Brothers
Tony Blackburn (Radio GOD)
Do you have any weird and wonderful routines that you have to stick to when DJing? Or any lucky mascots you have to take with you?
I have to pull over 15 minutes into the journey to a gig to check that I have brought my USB sticks and a headphone jack.
You are given 1 million pounds.... How would you spend it?
Buy a decent car, big holiday and treat the parents to a new extension.
What was the best piece of advice given to you and by who?
'Your only as good as your last haircut' no idea who said this but its a quote I've always found funny.
What was your first car?
Blue Vauxhall Corsa best car I've ever had, it was indestructible.
What do you get up to when not doing your show on Hot?
Get on the bike in the New Forest, listen to lots of podcasts, and watch a lot of daytime tele with my brand new baby boy!