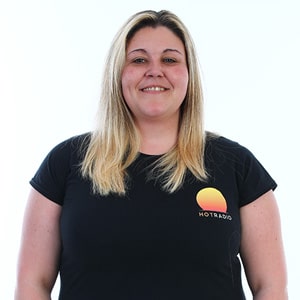 Get to know JoJo
JoJo presents Hot Drive on Hot Radio, but what makes her tick?
Quick Fire Questions!!
Tea or Coffee? Coffee
Sweet or Savoury? Sweet
Spicy or plain food? Not too spicy 😉
Casual or Smart? Casual
Trainers or shoes? Trainers
Dogs or Cats? Dogs
Summer or Winter? Summer
Spring or Autumn? Spring
Town or Countryside? Town
Morning or Evening? Evening
Shower or Bath? Shower... but would prefer a bath!
Posh nosh or pub grub? Pub Grub
Night on the town or quiet night in? Night on the town
Early bird or night owl? hmm.... A permanently exhausted pigeon?! Think it would have to be night owl
Bar or Club? A club
Get to know more about what makes JoJo tick
What was your first 'proper' job? Hockey Coach
What was the first record you ever bought? Now 22 - On Tape!
What was the first gig you went to? Boyzone at the B.I.C 🙈🙈
Top 5 choons of all time?
Faithless - Insomnia
Goo Goo Dolls - Iris
D. Kay and Epsilon - Barcelona
Energy 62 - Cafe del Mar
Gouryella - Gouryella
What is your favourite local place (non business)? Our beautiful Beaches!
What is your favourite food? Chinese
What is your favourite film/TV show of all time? Only Fools and Horses
If you could work with anyone (dead or live) who would it be and where? Would have to be P!nk... so much admiration for that woman!! Don't mind where, just somewhere hot with amazing summer vibes!
Most famous person you have met or worked with? It would probably have to be Busted as they were huuuuuuge at the time!!
You are hosting a dinner party.... which 5 famous guests - dead or alive would you invite?
Rick Mayall
Greg Davies
David Jason
Harry Redknapp
Chester Bennington
Do you have any weird and wonderful routines that you have to stick to when DJing? Or any lucky mascots you have to take with you?
I never wear shoes - only socks when DJing or presenting, I also have a lucky pair of pants that I wear to new gigs/events etc
What was the best piece of advice given to you and by who? "Do what makes you happy, Don't ever lose 'you' and never let anyone taint that beautiful smile...." By a really good friend of mine, who I sadly lost in 2011....
What was your first car? White Ford Escort MK 4
You can only eat one meal, and drink one drink forever! What would you choose? Chinese and coffee!!
When and where was your first gig? Presenting for Vale FM At Dorset Steam Fair!