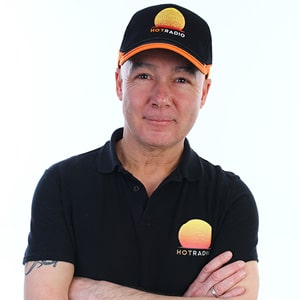 Get to know Kev Scott
Kev Scott presents the Funky Friday Lunchbox on Hot Radio, but what makes him tick?
Quick Fire Questions!!
Tea or Coffee? Coffee
Sweet or Savory? Savory
Spicy or plain food? Spicy
Casual or Smart? Casual
Trainers or shoes? Trainers
Dogs or Cats? Dogs
Summer or Winter? Summer
Spring or Autumn? Spring
Town or Countryside? Town
Morning or Evening? Evening
Shower or Bath? Bath
Posh nosh or pub grub? Pub Grub
Night on the town or quiet night in? Quiet Night in
Early bird or night owl? Night Owl
Bar or Club? Club

Get to know more about what makes Kev tick
What was your first 'proper' job? DJ
What was the first record you ever bought? Abba – Take a chance on me
What was the first gig you went to? Five Star
Top 5 choons of all time?
Bill Withers – Lovely Day
Rhythm is Rhythm - Strings of life
Kariya– Baby let me love you
Band AKA - Grace
Gary Newman & Tubeway Army – Are Friends Electric

What is your favorite local place (non business)? Beach / Seaside as long as its warm
What is your favorite food? Greek
What is your favorite film/TV show of all time? Film All Bond & TV Star Trek
If you could work with anyone (dead or live) who would it be and where? God in Heaven
Most famous person you have met or worked with? Met Barbara Windsor & Worked with Carl Cox
You are hosting a dinner party.... which 5 famous guests - dead or alive would you invite?
Gok Wan
Michael Jackson
Kylie Minogue
Michael Mcintyre
Robbie Williams
When and where was your first gig? The Academy - Bournemouth
You have the day off..... from everything... a day totally for yourself.... How would you spend it? Bingo
You are stranded on a desert Island.... you find a genie in a lamp... you can wish for 5 items - what would they be?
World Peace
No Hunger
No Suffering
Hair (lol)
Another 5 Wishes
What was the best piece of advice given to you and by who? Go for It and don't let anyone get in your way you can do whatever you want to do... by My Dad
What was your first car? Ford Escort