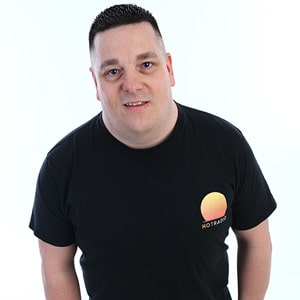 Get to know DJ Glitterballz
DJ Glitterballz kick starts your weekend on Hot Radio, but what makes him tick?

Quick Fire Questions!!
Tea or Coffee? Neither, cold drink person! Pepsi Max all the way!
Sweet or Savory? Sweet
Spicy or plain food? Plain
Casual or Smart? Casual
Trainers or shoes? Trainers (have far too many)
Adidas or Nike? Nike 100%
Dogs or Cats? Dogs
Summer or Winter? Summer
Spring or Autumn? Spring
Town or Countryside? Town
Morning or Evening? Evening
Shower or Bath? Love baths, but only have a shower
Posh nosh or pub grub? Pub grub
Night on the town or quiet night in? Quiet night in
Early bird or night own? Early bird
Bar or Club? Bar

Get to know more about what makes Glen tick
What was your first 'proper' job? Worked in a holiday park in Weymouth
What was the first record you ever bought? Michael Jackson's Bad album
What was the first gig you went to? Theatre - Cats in the west end, Music - Pet Shop Boys at BIC
Top 5 choons of all time?
Red Carpet - Alright
Arms of Loren - E'voke
ASHA - Ball & Chain
Disclosure - Funky Sensation
You get what you give - New Radicals
What is your favorite local place (non business)? Bournemouth Beach
What is your favorite food? Chinese. Sweet & Sour chicken, crispy shredded beef, duck pancakes & hoisen sauce, yum!
What is your favorite film/TV show of all time? TV - Travellers on Netflix
If you could work with anyone (dead or live) who would it be? Michael Jackson
Most famous person you have met or worked with? Lesley Joseph & Angie Brown
You are hosting a dinner party.... which 5 famous guests - dead or alive would you invite?
Alan Carr
Freddie Flintoff
Boris Johnson
Alan Sugar
Janet Street Porter
When and where was your first gig? Had a weekly residency at a bar in Dorchester
You have the day off..... from everything... a day totally for yourself.... How would you spend it? A day off whats that! Probably shopping.
You can only eat one meal, and drink one drink forever! What would you choose? Chinese & Pepsi Max
If you had one super power, what would it be and how would you positively use it? Make bad or selfish people good & decent.
What was your first car? A green Austin metro (nicknamed the green pea)
What do you get up to when not doing your show on Hot? Working, listening to music or shopping or sleeping.