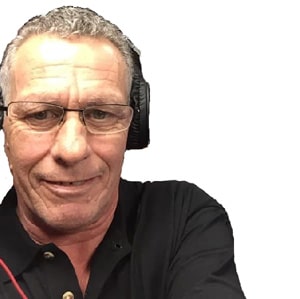 Get to know Alan
Alan presents Dance Classics on Hot Radio, but what makes him tick?
Quick Fire Questions!!
Tea or Coffee? Coffee
Sweet or Savory? Sweet
Spicy or plain food? Spicy
Casual or Smart? Casual
Trainers or shoes? Trainers
Dogs or Cats? Dog
Summer or Winter? Summer
Spring or Autumn? Autumn
Town or Countryside? Countryside
Morning or Evening? Morning
Shower or Bath? Shower
Posh nosh or pub grub? Posh
Night on the town or quiet night in? Night in
Early bird or night owl? Early bird
Bar or Club? Club
Get to know more about what makes Alan tick
What was your first 'proper' job? Electrical
What was the first record you ever bought? Sweet Ballroom blitz
What was the first gig you went to? Black Sabbath
Top 5 choons of all time
Never to much
Stairway to heaven
If you were here with me tonight
Rising to the top
Joy and pain
What is your favorite local place (non business)? Corfe Castle
What is your favorite food? Chinese
What is your favorite film/TV show of all time? Back to the future
If you could work with anyone (dead or live) who would it be and where? My Dad Winchester
Most famous person you have met or worked with? Jocelyn Brown, Take That, Steve Wright Plus loads more
You are hosting a dinner party.... which 5 famous guests - dead or alive would you invite?
Jimmy Hendricks
Tommy Cooper
Robbin Williams
Michelle Jackson
Simon Cowell

Do you have any weird and wonderful routines that you have to stick to when DJing? Or any lucky mascots you have to take with you? No
When and where was your first gig? School dinner time disco
You have the day off..... from everything... a day totally for yourself.... How would you spend it? With family , dog walking , flying
You are stranded on a desert Island.... you find a genie in a lamp... you can wish for 5 items - what would they be? A Boat . Gin , Music , Phone
You can only eat one meal, and drink one drink forever! What would you choose? Bake beans , coffee
You are given 1 million pounds.... How would you spend it on? Terribly
What was the best piece of advice given to you and by who? Look after your £'s the pennies will look after them selfs My Father
If you had one super power, what would it be and how would you positively use it? Fly. I would fly everywhere
What was your first car? Ford Cortina
What do you get up to when not doing your show on Hot? Dogs, horses , fly rc planes helicopters, diy, walking , drinking