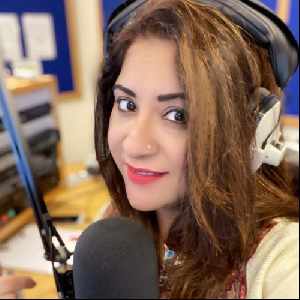 Get to know Anjali
Anjali presents Bollywood Beats on Hot Radio, but what makes her tick?
Quick Fire Questions!!
Tea or Coffee? Tea
Sweet or Savory? sweet 
Spicy or plain food? Spicy 
Casual or Smart? smart 
Trainers or shoes? shoes 
Dogs or Cats? dogs 
Summer or Winter? winter 
Spring or Autumn? spring 
Town or Countryside? town 
Morning or Evening? evening 
Shower or Bath? bath 
Posh nosh or pub grub? pub grub 
Night on the town or quiet night in? night on the town 
Early bird or night own? night Own
Bar or Club? club 
Get to know more about Anjali

What was your first 'proper' job? Corporate HR job 
What was the first record you ever bought? Hindi Bollywood 80 songs 
What was the first gig you went to? Ricky Martin in India 
Top 5 choons of all time?- 
Na Jaane kyo,
Itni si hasi,
Abhi mujh main,
Tere jesa yaar,
Tere phollo jesa rang
What is your favorite local place (non business)? bmth beach 
What is your favorite food? Chinese 
What is your favorite film/TV show of all time? hum apke hai kaun - tv show - big boss 
If you could work with anyone (dead or live) who would it be and where? Hrithik Roshan in Bollywood 
Most famous person you have met or worked with? Satinder Sartaz, gurdas maan
You are hosting a dinner party.... which 5 famous guests - dead or alive would you invite?
Hrithik Roshan
madhuri Dixit
navin Kundra
diljit dosanjh
shah rukh Khan 
Do you have any weird and wonderful routines that you have to stick to when DJing? Or any lucky mascots you have to take with you? Starting line to welcome my listeners it has to be same.
When and where was your first gig? – Unity 101 radio Southampton
You have the day off..... from everything... a day totally for yourself.... How would you spend it? Watch tv while eating my chinese food
You are stranded on a desert Island.... you find a genie in a lamp... you can wish for 5 items - what would they be? – Good life for daughter and Son, Friendship with Hrithik Roshan a Bollywood Star, lots of money so I can make all my family rich, make me slim without dieting, make me a big celebrity
You can only eat one meal, and drink one drink forever! What would you choose? Chinees noodle, with my vodka
You are given 1 million pounds.... How would you spend it? Save it for my kids
What was the best piece of advice given to you and by who? Forgive to your love once, my mom
If you had one super power, what would it be and how would you positively use it? change my daughter mental health.
What was your first car? peugeot
What do you get up to when not doing your show on Hot? running after my kids